Rock Out your Hair at Paula's Barber Shop-
40 E Cross St.Ypsilanti,48198
(734) 483-6300‎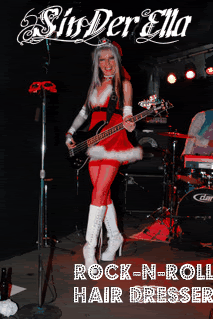 A Hair-Stylist to the Rock Stars is sure damn hard to find in Ann Arbor-
When I say "Rock Star Hair Stylist"- I'm talking about the kind of stylist who upon motioning you to her chair, can totally relate, understand, and sympathize with the emotional condition you and your hair are in.
My new BFF is SinDerElla
That is her trade mark name.
Throughout the years I have been to EVERY kind of hair shop imaginable- "The up-scale-glass of wine in hand as they design your locks, the coupon offering chains such as Fantastic Sam's, the African American Parlors, the gay beautician's, the Beauty School's, and authentic barber shops-in my search for "The ONE" who I would want as a sista!
I thinky that it was the Universe that put "rock and roll hair by SinDerElla" in my path this time for a serious hair style intervention, I am thanking the Universe every morning upon checking out my "new morning look."
All it took was for me to come clean to my rock –n-roll hair dresser about why my hair was in such emotional distress. This is very important to weed out the "real" from the "phony" beauticians- for sure.
I explained to her that, "After being officially divorced, I got drunk, pulled out my scrap-booking scissors, placed a hand mirror between my thighs, and with drink in one hand and the scissors in the other cut away in the dark, and could have cared less how I looked in the morning."
That is all it took, for a genuine, celebrity by night and indisputable Rocking beautician by day to grasp the locks of frustration I attempted to cut from my past.
I knew by her response to my condition, that she would treat me with love, honor and respect- something I never got from any other stylist for being honest, or my ex-husband for that matter.
TOURED WITH LA GUNS IN FILLMORE SLIM!
. t.h.e. MODFATHER AND HIS GROOVE COALITION
AND MANY MORE DETROIT BANDS
APPEARED IN SEVERAL HORROR FILMS ..including to be released-"THE LITTLE RED DEVIL" STARRING DAN BALDWIN AS SATAN!" CHECK INTO WWW.THESKELETONFACTORY.COM FOR BEHIND THE SCENE PICS.
If you are feeling frumpy, disgusted with your look, on the edge of freaking out over how God must be against you, I recommend stepping into Paula's Barber Shop in the Historic DePot Town in Ypsilanti, and allow SinDerElla to work her majic for a hot second. She will change your life!
Tip her BIG…. The price for a hair cut is only $16.00… How you feel after-ward is priceless!